Above all else stood Tagaloa-lagi.
Standing in  s p a c e,
Above the heavens.
Tasi, Lua, Tolu, Fa, Lima, Onu, Fitu, Valu, Iva,
Nine heavens rest above.
Lagi's constant reassurance,
Like a warm hand on
The head of a
Child, creation of Tagaloa.
On top of
Manu'atele he rests
S-p-l-i-t
To make his s
                         t
                           e
                             p
                               p
                                 i
                                  n
                                    g
                                      s
                                        t
                                          o
                                            n
                                              e
                                                s
From    island    t o    island
                                              Hawai'i
                                               Samoa​
                    Aotearoa​​​​​                                  Rapa Nui
Sitting in the heart of it all
(Samoa)
V i n e s  s p r e a d  o v e r
                    Rocks
Decaying to worms
             (Headless)
             -Armless-
             (Heartless)
             -Legless-
Tagaloa gives them breath,
Sa and Va'i.
Brought together on one land
Sava'i.
Tagaloa's creation for
Men and Women.
His creation,
Men and Women,
Sa and Va'i.
Sava'i
Too far from
Manu'a
Tagaloa placed
–Tutuila–
In the centre to connect them.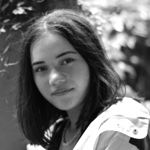 Allegra Wilson
Year 12
Diocesan School for Girls