the bonds of love we meet
My little brother understood kia kaha to mean aroha
what with the silence we say it lately
a consecrated quiet
and chalk vows
clinging to school grounds
like blue to clouded sky.
Kia kaha means asking Laiba from class how to tie a headdress
uncrumple careful hands, each slip of scarf
you push back into place.
1:32 pm, close your mouth a moment.
———————–Kia kaha
is the bow of the rugby boys' heads,
still of the prefect's shoes. Listening to your friends
breathe.
Light. Kia kaha is the look up,
the struggle of faith through the loopholes of our fists.
We will make this home again.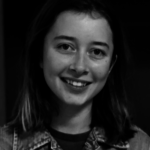 Pippi Duncan
Year 12
Takapuna Grammar School