Felicity Wishes
My room looks like a stage set, ready for performance,
The good child good daughter gonna go for Head Girl, huh. Good.
Golden statuette on the shelf, Gucci counterfeits in the corner.
How would your friend describe you?
My childhood idol Felicity Wishes herself new
clothes every magazine,
new kind of person to try on, this skirt and this hat
make her a painter, this dress
makes her a poet.
I don't know what my friends think
and BuzzFeed gives me a one-word guess.
I've got all the clothes still.
Nice easy bits that fit together, template cut-outs with dotted lines and creases,
you can build her into the boss, the girlfriend, the author, the activist, the teacher,
the girl who pocketed your mother's lipstick on the way out.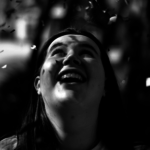 Rachel Lockwood
Year 13
Taradale High School