Bath time
Patience is a habit
the bath has learned
from her many lovers.
They come
and go,
waxing and waning
like the moon.
Her presence settles over the soul
as easily as over warm flesh,
like the musk of steam or
dew drops.
Her heartbeat is the sound of water
gently eroding
her thighs
as if sculpted from sand,
her breathing
the sound a shell makes
when you hold it to your ear.
Her perfume is incensed
vanilla orange blossom candles
burning wicks like gasoline.
She is where a soon to be mother
sprawls,
belly glistening with sweat and steam and blood,
cheeks sparkling with tears and wonder.
The bath can cup the new life
against her porcelain skin.
Those days, her waters hold
the whispers of a doula.
She is where a med school hopeful
skins herself
of scrubs and good manners,
dissects herself, searching for any
fissures in the façade,
a girl who grew up hearing that she could never
be a doctor
now awaits exam results
like a telegram home during war.
She is where a survivor scrubs herself
clean
of the probing hands
that invaded
the borders of her body,
colonised her
like indigenous land.
She is where a fourteen-year-old girl
discovers
her body
for the first time
and learns how to create earthquakes
inside herself.
The bath cradles each
experience
like a newborn.
After sunset
the moon's light splashes
across the bath's porcelain skin.
She too is lonely.
So, for tonight
they find a home in each other's arms.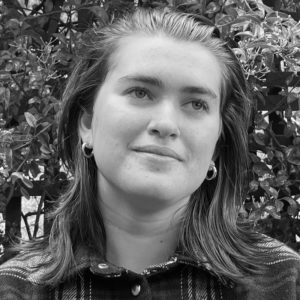 Hannah Wilson
Year 13
Raphael House Rudolf Steiner School