Stitches

Mum's stitches colour me like dark crayons striking paper.
My beautiful mum's stitches find me on rainy days I tried to hide.
Broken vase upon a cold tile sorry Mum
Mum I'll be better than the little girl I was last week.
I need fixing, stitches
stitches you say will hold me together
If not now then forever.
I'll understand one day how dads lie and kiss their bottles instead of mums.
Oh Mum, Mum, black and blue the kids at school ask why I have these stitches
and I smile and say they're glue.
I'll stay together better than the best of yous.
Mum used to sing for me but Dad taught her to teach me right
and someday I won't make the same mistakes.
Mum's stitches stay with me
even when they've
disappeared.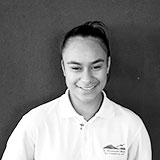 Tessie Rose Poutai Tipene
Year 12
Te Wharekura o Mauao